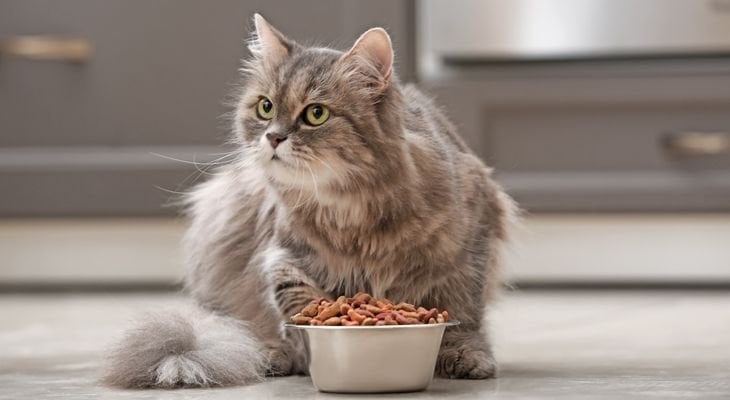 Like humans, cats need a balanced diet and to maintain a healthy weight, for optimal physiological functioning. Feeding your cat too much can lead to obesity; feeding your cat too little can lead to malnourishment. Furthermore, a cat may have an aversion to a certain cat food or a condition causing loss of appetite that can lead to feline anorexia. All these circumstances can cause poor health.
What to Feed Your Cat
Cats are carnivores, and the main staple of their diet should be meat. They need it for protein and for fat. One mistake cat owners make is feeding their cat table food or dog food. The latter does not meet a cat's nutritional needs because it is often full of carbohydrates. Cats cannot process carbohydrates well and, over time, a cat's health can deteriorate to the point of fatality. Ingesting too many carbohydrates can also lead to obesity, which, in turn, can cause diabetes, liver disease, arthritis, skin problems (due to the inability to groom properly) and decreased quality and length of life.
In addition, anorexia—often brought on by stressors or disease—can be a sign of several feline health problems, including:
Diabetes
Pancreatitis (inflammation of the pancreas)
Kidney disease
Hepatic lipidosis
Hyperthyroidism
Fever
Tumor
Gastrointestinal disease
Respiratory disease
Liver disease
Cancer
Anorexia can also lead to health problems, such as:
Diarrhea
Vomiting and nausea
Lethargy
Excessive weight loss
Weakness
Yellowing of the skin
As you can see, nutrition is vital to your cat's overall wellbeing. Before purchasing cat food, get recommendations from your feline veterinarian, as he or she may suggest feeding your cat wet food instead of dry food or vice versa, or a combination of both. The vet may also propose a brand that meets your cat's particular nutritional needs. For instance, a cat with diabetes may require a diet that's different than that of a cat with a weakened immune system or food allergies. Even a healthy cat may have different dietary recommendations than other cats do.
In general, if you have an otherwise healthy cat, always pick cat food with a label that states it meets the American Association of Feed Control Officials' standards. Put plainly, this ensures that the food you choose for your cat will at least meet your cat's minimum nutritional needs.
How Often You Should Feed Your Cat
How often should you feed your cat? This really depends on your cat's weight. Your veterinarian can check your cat's weight and, based on its ideal weight, come up with a daily calorie count that your cat should consume. From there, you can schedule your feline's meals so that he or she can have several small meals throughout the day or have one meal in the morning and one meal in the evening.
If your cat is overweight, underweight or simply due for a regular checkup, call our practice today. We can schedule an appointment for your cat, examine his or her health and make dietary recommendations, as needed.